LAS HERMANAS > PUBLICATION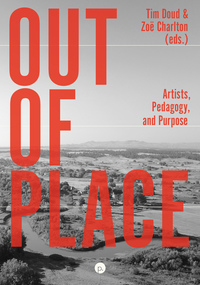 Out of Place: Artists, Pedagogy, and Purpose

Edited by

Tim Doud

,

Zoë Charlton

Contributors

Lauren Frances Adams

,

Jordan Amirkhani

,

Kenneth Bailey

,

Leonhard "Barto" Bartolomeus

,

Michele Carlson

,

Michael Ray Charles

,

Zoë Charlton

,

George Ciscle

,

Daniel Coleman

,

Roz Crews

,

Tony Cruz Pabón

,

Joseph Cuillier III

,

Maria del Carmen Montoya

,

Jen Delos Reyes

,

Wendy DesChene

,

Dan Devening

,

Stephanie Dinkins

,

Tim Doud

,

Marcellina Dwi Kencana Putri

,

Noah Fischer

,

Bill Gaskins

,

Ken Gonzales-Day

,

Alexis Granwell

,

Pablo Guardiola

,

Heather Hart

,

Janelle Iglesias

,

Lisa Iglesias

,

Susan Jahoda

,

Joseph Kunkel

,

Rudy Lemcke

,

Whitney Mashburn

,

Jaimes Mayhew

,

Ryan McCartney

,

Elliott P. Montgomery

,

Patricia Nguyễn

,

Carmen Papalia

,

Shani Peters

,

farid rakun

,

Lisi Raskin

,

Christopher Robbins

,

George Scheer

,

Jeff Schmuki

,

Alexandria Smith

,

Tina Takemoto

,

Jina Valentine

,

Antoine Williams

,

Risë Wilson

,

Caroline Woolard

FORTHCOMING Winter 2022
---
LAS HERMANAS > SHOUT OUT: Terremoto.MX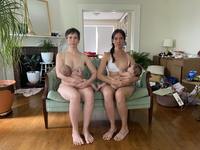 TERREMOTO.MX Blog Post featuring "Vida, Muerte, Justicia. Latin American & Latinx Art for the 21 st Century" at OCA Center, USA
---
LAS HERMANAS > GROUP SHOW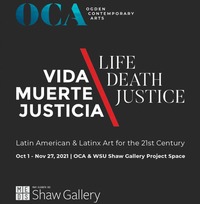 Vida, Muerte, Justicia | Life, Death, Justice
Latin American & Latinx Art for the 21st Century
October 1 – November 27, 2021
Exhibition of Contemporary Latin American and Latinx Art Responds to Global Themes Relating to Life, Death and Justice at Ogden Contemporary Arts Center and Weber State University
Exhibition Public Opening: October 1st, 6-9 PM
Location: OCA Center and WSU Shaw Gallery Project Space, Kimball Visual Arts Building
Curated by Jorge Rojas and associate curator Maria del Mar González-González.
---
LAS HERMANAS > GROUP SHOW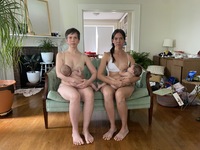 We Speak Our Truth: Portraits of Mamahood is a group exhibition by artists who are mothers. Curated by Kate Fauvell, the exhibition features works by

Las Hermanas Iglesias

,

Tabitha Soren

,

Jaishri Abichandani

,

Amanda Kates

,

Aimee Gilmore

, and

Kate Fauvell

.
ChaShaMa
Sept. 9 —Sept. 23, 2021
320 W 23rd St
New York, New York 10011
Opening Reception
Sep 11, 2021 1:00pm-3:00pm
---
LAS HERMANAS > VIRTUAL CONVERSATION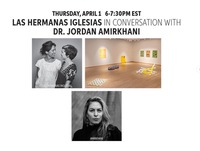 Las Hermanas Iglesias in Conversation with Dr. Jordan Amirkhani
On April 1, 2021 at 6:00PM Eastern Time, Las Hermanas Iglesias and Dr. Jordan Amirkhani will discuss collaboration and art making within the context of Covid and remote communications.
Registration is necessary: All funds raised through registration will provide much-need operating support for the Work Center. If you are unable to make the minimum $25 donation, use the code WONDERSPRING for free access or a sliding scale approach. Any questions, please email
virtualevents@fawc.org
.
Click here to learn more.