JANELLE > UCSD HELLMAN FELLOWSHIP
The Society of Hellman Fellows was established at UC San Diego in 1995 through the generosity of Chris Hellman and the late Warren Hellman. This valuable program is designed to provide financial support and encouragement to young faculty in the core disciplines who show capacity for great distinction in their research and creative activities.
---
---
JANELLE > SD ART PRIZE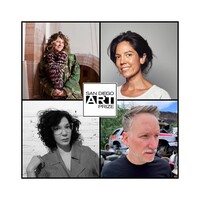 The San Diego Visual Arts Network is pleased to announce the four recipients of the 2023 San Diego Art Prize:

Mely Barragá

n, Anya Gallaccio, Janelle Iglesias, and Joe Yorty

.



SD Art Prize 2023 Exhibition


10/29 - 1/14


SD Central Library

Curated by Lara Bullock, Ph.D.
---
LAS HERMANAS > GROUP EXHIBITION
HOW TO SURVIVE
October 6, 2023 – January 15, 2024
ANCHORAGE MUSEUM


artists include:
Christi Belcourt
Carolina Caycedo
Gaye Chan
Minerva Cuevas
Erin Gingrich
Las Hermanas Iglesias
Intelligent Mischief
Mary Mattingly
Nicole McLaughlin
Amy Meissner
Audie Murray
Ellie Schmidt
Marie Watt
625 C STREET, ANCHORAGE, AK
---
LAS HERMANAS > EXHIBITION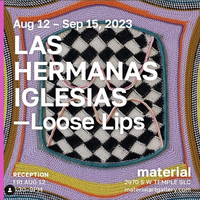 Las Hermanas Iglesias: LOOSE LIPS
Material
2970 South West Temple,
Salt Lake City, UTAH
---
LAS HERMANAS > GROUP SHOW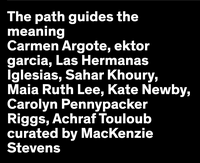 11 August — 9 September 2023

The path guides the meaning

curated by MacKenzie Stevens

794 Sutter Street San Francisco, CA
---
LAS HERMANAS > GROUP SHOW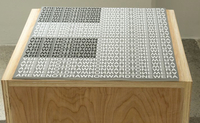 ARE WE NOT DRAWN ONWARD TO NEW ERA
Curated by Ceci Moss
Mandeville Art Gallery, University of California San Diego
March 4 - June 18, 2023
Opening Celebration: March 4th, 2-6pm
---
LAS HERMANAS > ARTIST TALK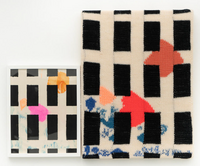 Visiting Artist Lecture: Las Hermanas Iglesias:
Minneapolis College of Art & Design
FRI, FEB 10, 2023, 1 –2 PM
---
LAS HERMANAS > ARTIST TALK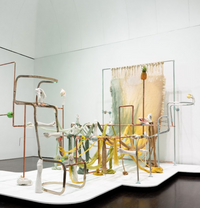 "Las Hermanas Iglesias" is on view at the Blanton Museum of Art through July 9, 2023 Learn more about this exhibition here →

https://blantonmuseum.org/rotation/la...

Originally recorded on January 18, 2023.


WATCH THE RECORDED TALK ON YOUTUBE HERE:
https://www.youtube.com/watch?v=rWHO_I5v04g